TENS Digital Therapy Unit
TENS stands for Transcutaneous Electrical Nerve Stimulation (finally I know), which are mostly used for pain relief and the treatment of pain and nerve related pain conditions (acute and chronic conditions). They work by sending electronic stimulating pulses across the surface of the skin and along the nerve strands. The electrical pulses stimulate nerve endings and the skin to create endorphins and confuse pain signals. Though theories as to how it works differ in each the pain is relieved naturally by electronic stimulation. Today we'll review a hand held TENS unit.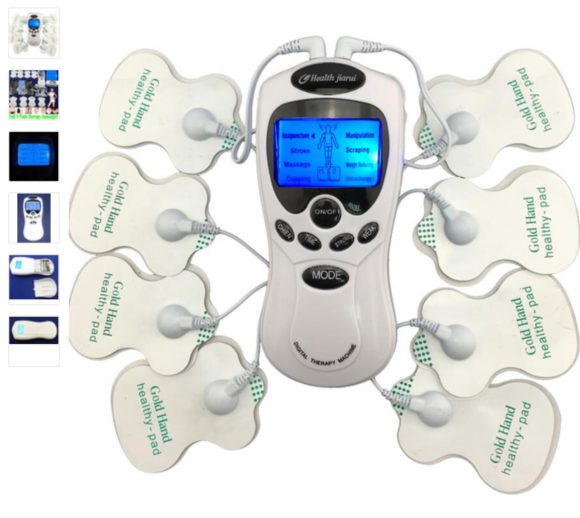 Product TENS Digital Therapy Unit
Cheapest Price $15.99
Specs 
  Size: 6″ x 2.6″ x 0.6″
  Net Weight: 0.22 lbs
  Can be charged with USB cable or by 3*AAA batteries(not included)
Features
Combination of different pulse signals (8 settings)
Able to increase and decrease intensity
Can alleviate back pains, shoulder pains, and other muscle pains
The Good It comes with 2* Electrode pads (2 pairs) and 2 x 4 electrode wires, a USB charging cable and user manual. The unit is very simple to use and set up. The 3 AAA batteries last a long time before they need to be replaced.
The not so good The machine itself feels a little cheap, with buttons that have a little bit of give to them. But, they work and you will feel the electrical stimulation. Some people complain that they feel nothing when they set it up and think it does not work. I made the same mistake before I realized that the intensity was on the lowest setting. Once I increased the settings, I could definitely feel and see it work.
Pros

Intensity can be varied
Batteries can last a long time
Budget friendly
Easy to store
Cons
Final thoughts The TENS Digital Therapy Unit is a very budget friendly stim unit. It's not the most sophisticated unit, but will get the job done. It does have a cheap feel to it, but if it works, why do I care. Definitely a good unit to try, and at such a low price, you can't go wrong.
Tags: pain relief, TENS, Therapy